Fruits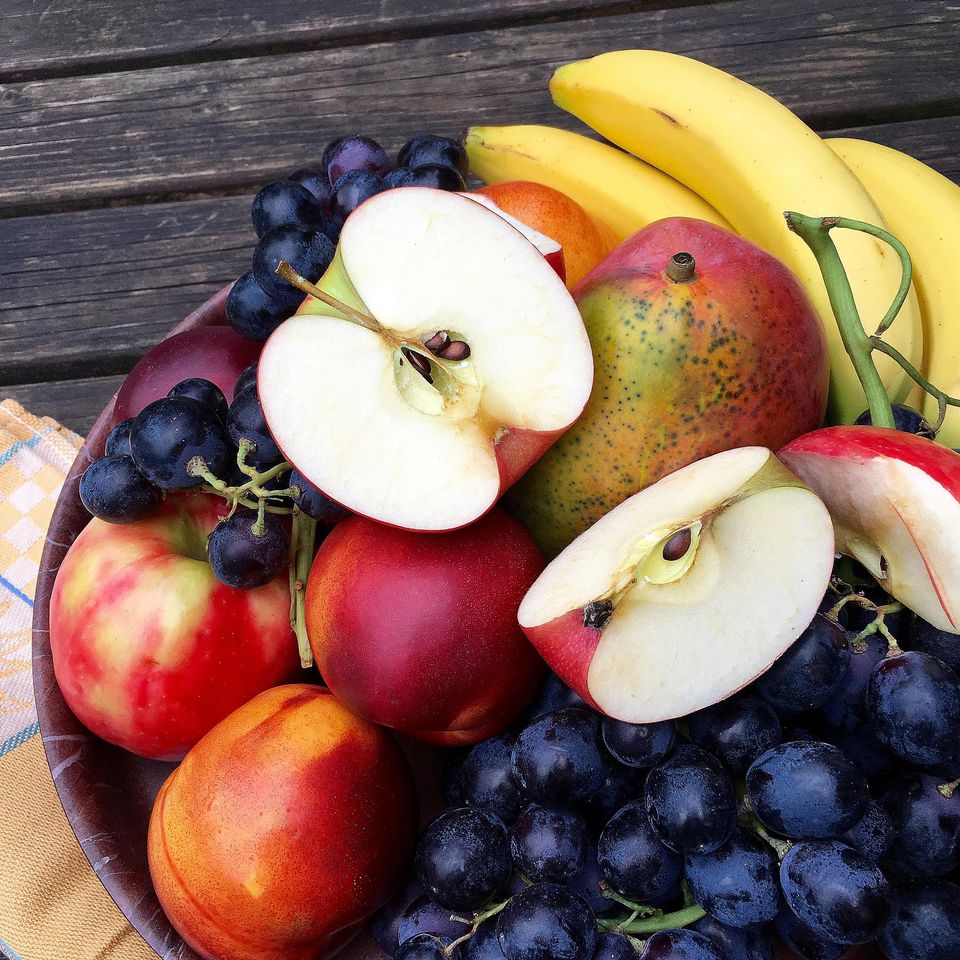 Mango, pomegranate, bananas, cantaloupe or apples, it's your choice, and it's also about what your birds prefer. Just about any fruit imaginable is good for your bird's diet. Full of taste and nutritional value, fruit is a wonderful source of vitamins, and these choices are a favorite among the vast majority of pet birds. As with any fresh food you offer your bird, remove and discard any leftovers a couple of hours after serving. This prevents bacteria growth inside of your pet's
Beans

Beans are a wonderful source of vegetable protein. They're good for you and good for your bird, too! Beans are also an outstanding source of fiber for your companion bird which helps keep her digestive system running smoothly. Try boiling a 15 bean soup mix without any seasoning. Allow the beans to cool, and then offer a scoop to your bird. The chances are that this will become a fast favorite with your little friend. Remember to never serve raw beans to your companion bird as they can be… 

Sprouts

Do you like alfalfa sprouts on your salad? Your bird will like them too! Leaning safely sprout in your kitchen is not difficult at all! Be sure to thoroughly wash any sprouts that you offer your bird. Some may have come into contact with pesticides in their journey from the garden to your local supermarket, and you don't want to pass these toxins on to your pet. Growing your own sprouts is a healthy way to give live, raw nutrition to your flock.

Wild birds feast on an amazing variety of vegetables in their natural habitats, so it only makes sense that fresh veggies are good for companion birds as well. Try offering your pet some thoroughly washed and rinsed broccoli, cauliflower, or greens next time you serve these veggies in your home. Other avian favorites include carrots, kale, root vegetables, and peas.

No matter whether it's cooked or uncooked, birds love pasta. The good thing is, it's full of energy enhancing carbohydrates! Try boiling some bowtie pasta with vegetables and serving it to your bird when cool. If your pet prefers his pasta crunchy, fill a few raw macaroni noodles with a nut butter for a fun and tasty snack.

Whole grain bread tastes great, and are a wonderful source of fiber. Try offering your pet small bites of bread as a treat for good behavior. Serving breakfast toasts offers a nice changeup to their morning meal.

Popcorn

Believe it or not, many pet birds enjoy snacking on popcorn. You can serve your bird either popped or unpopped kernels. If you choose to serve the popcorn unpopped, boil the kernels for a bit in plain water to soften the tough hulls. If you desire, you can pop the kernels for your bird using a very light amount of pure coconut. Be sure never to give your bird microwave popcorn. These varieties are extremely high in fat and salt, which can be harmful to your pet's health.

Cereal / Grains

Grain farmers often complain when flocks of wild birds descend on their crops to feast. A hungry group of birds can strip a field of grain in no time. Grains are nutritious and very good for birds. They offer nutritional values that some other foods cannot. Whole grains are an excellent source of vital protein, not to mention beneficial carbohydrates. Try serving your bird oats, quinoa, or Grain Bake, and watch the feeding frenzy begin!

Nuts are extremely healthy for your companion bird. Walnuts, in particular, have many nutritional features not found in other nuts. Nuts are, however, very tasty, and many birds appreciate them as special treats. Nuts are natural foraging toys as well as treats. Many birds will spend time exercising their beak and jaw muscles on the shells of some varieties trying to pry them open. If they find one they simply cannot open, give them a hand and use a nutcracker to assist in cracking them.  Always… 

Although many humans have trouble eating spicy peppers, birds can take the heat. It seems that our avian friends lack the taste receptors that pick up on a pepper's stinging bite, which makes them a favorite of birds around the world. Try giving your pet a nice fresh chile or banana pepper and watch him chomp through it to get to the meat and seeds inside. You may find out that you have quite a thespruce.com/tasty-nutritious-treats-for-your-bird-390629hot little tamale on your hands! Jalapeño peppers are another favorite of compan
 

Mango, pomegranate, bananas, cantaloupe or apples, it's your choice, and it's also about what your birds prefer. Just about any fruit imaginable is good for your bird's diet. Full of taste and nutritional value, fruit is a wonderful source of vitamins, and these choices are a favorite among the vast majority of pet birds. As with any fresh food you offer your bird, remove and discard any leftovers a couple of hours after serving. This prevents bacteria growth inside of your pet's… 

WLADIMIR BULGAR  

Beans are a wonderful source of vegetable protein. They're good for you and good for your bird, too! Beans are also an outstanding source of fiber for your companion bird which helps keep her digestive system running smoothly. Try boiling a 15 bean soup mix without any seasoning. Allow the beans to cool, and then offer a scoop to your bird. The chances are that this will become a fast favorite with your little friend. Remember to never serve raw beans to your companion bird as they can be… 

Brie Grometer/Flickr/CC BY-ND 2.0

Do you like alfalfa sprouts on your salad? Your bird will like them too! Leaning safely sprout in your kitchen is not difficult at all! Be sure to thoroughly wash any sprouts that you offer your bird. Some may have come into contact with pesticides in their journey from the garden to your local supermarket, and you don't want to pass these toxins on to your pet. Growing your own sprouts is a healthy way to give live, raw nutrition to your flock.

Safe Fruits for Birds

Most bird owners have heard from bird experts that a variety of fresh fruits can be a vitally important part of their feathered friend's diet. While this is true, it's important to know which varieties of fruits are safe for your bird, and which provide essential nutrients that can help make your pet healthier, stronger and happier.

Berries

Any type of berry that is safe for human consumption, such as strawberries, blueberries, and raspberries, are also safe for your pet birds to snack on. As you might imagine, this can open your pet bird up to a whole new world of flavor combinations and variety. In addition to being tasty, juicy treats, berries are also packed with vitamins and antioxidants, compounds that can help your pet attain a healthy and strong physique.

Apples

The nutritious and delicious apple can also be a healthy and fun addition to your bird's diet. Take a bit of caution when serving this treat, however — apples are entirely safe for your bird as long as they are peeled and sliced before you serve them to your pet. Things can get dangerous quickly if your bird gets hold of an apple seed, however. Apples are in the rose family, and while their flesh is very good for your pet, their seeds contain a toxinthat is highly poisonous to birds.

Grapes

These fun, bite-sized fruits are a hit with birds all over the world, and it's no wonder why. Grapes are very sweet to the taste and contain a rather high level of fructose. This means that they can work to give your bird a quick energy boost — but should be fed sparingly for that very reason. Many bird owners have found that their pets like grapes a little too much, picking them out of fruit mixes while discarding other, more nutritious foods in the process. This can lead to vitamin… 

Oranges

Not only do oranges taste great, they are packed with a super dose of Vitamin C, which can help build your bird's immune system. If that's not a great reason to let your feathered friend chow down on some citrus fruit now and then, we don't know what is! Oranges are a good treat to feed when you know that your bird is going to experience some stress, like a vet visit or when you have rowdy company coming over. They might help give your pet's natural resistance

Bananas

This long yellow fruit is a favorite of many birds (and their owners!). It's soft, sweet flesh is almost irresistible for many of our feathered friends, and as a bonus, the peel can make a fun toy for your bird while providing important foraging activity as well! To put a fun spin on this summertime favorite, try your hand at making this easy recipe for Banana Strips for Birds. Chances are that your pet will love them!

The Base Diet for Birds: Food That Is Balanced

In the wild, birds eat a vast variety of foods: seeds, nuts, grasses, flowers, fruits, insects, the list goes on. The change in seasons brings new types of foods, and birds nourish themselves on what's available. At home, your bird also nourishes himself on what's available, so it should ideally be the most balanced, natural and whole food possible. A bird's diet is critical to his health. A bird on a poor diet will not live out his full life span, and will most likely succumb to any number of viral, bacterial, and fungal infections. A good diet boosts the immune system and helps the bird ward off illness. Not only that, a good diet keeps a bird in good spirits, keeps his feathers in great condition, and improves his life overall.

The "base" diet is the primary item that you feed your bird on a daily basis; everything else you feed is an addition to the diet, or may even be considered a "snack." Ideally, the base diet should be as nutritionally sound as possible because it is what your bird is eating the most. Lafeber products are the ideal base diet because they are formulated to be nutritionally balanced. Every bite your bird takes offers building blocks for all of the systems of the body. They are also fun for your bird to eat and are packed with a wide variety of healthy, nutritious, non-GMO ingredients, most of which your bird would search out in the wild.

The base diet — whether it's Nutri-Berries, Nutri-Meal bars, Avi-Cakes, Pellet-Berries or Premium Daily Diet Pellets, or a combination of these — should be offered in the morning when the bird is hungriest. If the bowl is empty later in the evening, you can add more. Don't allow your bird's bowl to be empty for too long. Small birds, especially, have a very fast metabolism and most choose to eat all day long.

Bird Seeds & Bird Pellets

Many new bird owners become confused about what they should feed their birds. Bird seeds? Bird pellets? There are so many options and so many opinions. Both seeds and pellets are nutritious foods, and one is not necessarily superior to the other, depending on what else you're feeding your bird in conjunction with it. Lafeber has solved the seed/pellet debate by including both in many of its products, making the decision easy for you and your bird. Not only that, Lafeber has also included nutritious fruits and vegetables in the same foods, making them even more delicious and healthy. Lafeber also adds essential Omega fatty acids and enriches its diets with vitamins and minerals. Each bite your bird takes is packed with healthful, non-GMO ingredients. Lafeber diets also encourage foraging behavior, which is so important to the mental health of parrots and other companion birds.

Fruits & Veggies: Great Snack for Parrots, Finches & Canaries

Fruits and veggies make great daily snacks, especially the more nutritious fruits and veggies, such as those that are dark green or orange in color. Try various fresh foods to see what your bird likes the best. If you have a picky pet bird, offer fresh foods in a variety of ways: chopped, mashed, whole, grated, and so on. Don't give up too soon on feeding a certain nutritious item; it may take a while for your bird to get curious enough to try it.

When you feed fresh foods, make sure that they only stay available to the bird for a few hours. After that, many fruits and veggies start to go sour or attract pests. Here's a short list of some nutritious fruits and veggies you can try. Make sure to rinse everything very well before serving them to your pet bird, and use organic produce whenever possible.

Fruit:

apple
banana
berries
melon
orange
pineapple

Veggies:

asparagus
beans (cooked only)
broccoli
carrots
cauliflower
celery
leafy greens
peas
peppers
soybeans
sprouts
squash
yams

Supplements to Your Bird's Diet

Avian veterinarians often recommend dietary supplementation for "seed junkies," those birds that refuse to touch anything other than seeds. If your bird is eating Lafeber products, you have much less to worry about, because these diets are nutritionally complete. Still, you may have a bird that is molting, laying eggs, or recuperating from an illness or injury, or perhaps your bird is stressed from a recent move, loss of a mate or other stressful situation. In these cases, you should consider a dietary supplement to keep your bird in tip-top shape.

Also, just as you may sometimes take vitamins, it's often good for a bird to have a vitamin and mineral supplement just to make sure that he is getting the nutritional elements he needs to remain healthy. Speak with your avian veterinarian about dietary supplementation before you start giving them to your pet bird. You can harm your bird by over-supplementing, but it can't hurt to offer a supplement a couple of days a week. If you add a powdered supplement to the water, change the water at least twice a day, and offer only fresh water (without the supplement) at night to ensure that bacteria doesn't grow in the dish.

Cooking For Your Bird

Birds love a home-cooked meal as much as us! Cooking nutritious meals is so easy. If you can crack an egg, you can make a delicious bird recipe. These recipes, all of which include Lafeber bird foods, are also great for weaning chicks and molting birds. Here are three dishes to try:

Nutri-Berry Yummies

Bird recipes don't get easier than this! First, buy a box of ready-made cornbread mix. Follow the directions on the package. Before you are ready to pour it into the baking pan (or muffin pan) add two cups of Nutri-Berries, then bake. You may have to bake it for a little longer than the package allows. Your bird will have a blast picking the Nutri-Berries out of the muffins! Cool before serving. Cut into squares and freeze, and then defrost when needed.

Pan (Avi) Cakes

This one is super easy, too. Buy a packet of ready-mixed pancake batter. If you can get whole-wheat pancake mix, even better. Make mix as directed on the box. Just before pouring the mix onto a heated griddle, break up some Avi-Cakes into it and then make your pancakes. Serve warm, not hot.

Nutri-Meal Scramble

If you can break an egg, you can make this nutritious meal. Break three eggs into a bowl, shell and all. Crumble one Nutri-Meal bar into the egg mix, and whip it together. Pour the mixture into a heated pan and scramble. Make sure that the eggs are very well-cooked, dry, and cooled down before serving. This recipe offers your bird the nutritious wallop of a Nutri-Meal bar and a protein punch that's great for feather production.

Healthy Snacks For Your Pet Bird

Along with your bird's base diet and other healthful foods, it's great to offer nutritious snacks, but most importantly, snacks should be fun to eat, like Popcorn Nutri-Berries. Ideally, you'll offer snacks formulated for birds rather than salty, fatty, or sugary treats that might be in your cupboard. Snacks should make up no more than 10% of your bird's diet during the week. Healthy snacks can also include rice cakes, whole-wheat bread, no-salt added whole-wheat crackers, but in moderation.