Product Description
Contents:
Owners of companion parrots value these appealing birds in much the same way that a dog lover values his pet pooch. But companion parrots have a unique quality unmatched by any dog: They can talk to their human companions! This revised and updated book advises on all important topics related to keeping a companion parrot, including: Choosing between a young parrot an and older bird Selecting and training a talking parrot Modifying the bird's behaviour and reinforcing social behaviour habits Protecting the parrot from household hazards Coping with occasional problems, such as screaming or feather chewing Author Mattie Sue Athan concludes by recounting several amusing anecdotes about companion parrots and their various owners. Includes colour photos and line art.
Authors: Mattie Sue Allen
Pages: 248
Soft Cover
Illustrations: Colour photos and black/white drawings
Publisher: Barrons
ISBN: 9780764142130
http://myparrotshop.com/a-guide-to-companion-parrot-behavior/
Product Description
This superb colourful title authored by Rosemary Low, includes 168 pages of comprehensive information on this species in the wild and in captivity as an aviary and companion bird.
Contents:
History, In the Wild, Worldwide Trade, Subspecies, Physical Characteristics, Colour Mutations, Abnormal Colouration. In Captivity – Accomodation for Breeding Pairs, Breeding, Artificial Incubation, Handrearing, Holiday Care, A Healthy Diet and Diseases & Disorders.
As Companion Birds – Selection and Purchase, Preparing a Home for your New Pet, Enrichment and Mental Stimulation, General Care, Pet Characteristics and Traits, Talking and Mimicry, Psychology and Common Behavioural Problems.
Author: Rosemary Low
Pages:168
Soft Cover 
Publisher: ABK Publications
ISBN: 9780975081761
http://myparrotshop.com/abk-grey-parrots/
Product Description
Featuring over 250 colour photographs this 160 page revised edition of A Guide to Eclectus Parrots as Pet and Aviary Birds contains a comprehensive description of all 10 subspecies, their taxonomy and identification.
Other chapters include Eclectus in the Wild, Eclectus in Captivity-As Pet and Aviary Birds, Housing, Feeding, Breeding, Artificial Incubation and Handraising, Troubleshooting and Symptoms of Breeding Failure, Taming and Training, Colour Mutations and Genetics, Diseases and Disorders.
Authors: Dr Rob Marshall and Ian Ward
Pages: 160
Soft Cover
Publisher: ABK Publications
ISBN: 9780975081709
http://myparrotshop.com/abk-eclectus-parrots/
Product Description
Key Features:
Selecting Macaws for Breeding or Companion Birds
Housing and Furnishings
Nutrition and Diet
Breeding – Compatible Pairing, Parent-rearing, Artificial Incubation, Handrearing, Chick Development, Mutations, Hybrids
Macaws as Pet and Companion Birds—What Species are Suitable for Your Situation?
General Management, Enrichment, Behaviour, Taming and Training, Behavioural Problems
Health and Diseases in Macaws
19 Species Featured in Individual Chapters
This 214-page title has been eagerly awaited by macaw breeders and pet bird owners since the first edition went out of print five years ago. The revision is written by the original author, Rick Jordan, together with Mark Moore – both highly respected specialist parrot breeders based at Hill Country Aviaries in Texas, USA. This facility boasts some 70 species of psittacines and has been awarded several US First Breeding awards by the American Federation of Aviculture. Rick and Mark are both very active in conservation and provide breeders with support through their knowledge and lectures internationally.
A Guide to Macaws as Pet and Aviary Birds – Revised Edition is the major captive care title for this species available worldwide, providing the details required by breeders and pet and companion owners alike.
Review:
Benny J. Gallaway PhD
Past President  American Federation of AvicultureI have just completed a review of A Guide to Macaws as Pet and Aviary Birds-Revised Edition by Rick Jordan and Mark Moore.Simply put, in my professional opinion it is the best of its ilk, recent or past. As a retired aviculturist who specialized in Macaws and served as President of the American Federation of Aviculture Inc. for six years, I was awed by the content, scope and appearance of this exceedingly well-done book.
No avicultural library is complete without this volume. Anyone specializing in Macaws, despite what they think they already know, will benefit from this book—I know I did.Authors: Rick Jordan and Mark Moore
Pages: 214
Soft Cover
Publisher: ABK Publications
ISBN: 9780958710206http://myparrotshop.com/abk-macaws/
Product Description
This DVD, the first in a multiple-part series by the respected Barbara Heidenreich, covers the basic fundamentals of training with positive reinforcement. With detailed instructions on how to shape behaviour with approximations you can watch high quality footage of companion parrots learning behaviours for the first time.
For those of you who have waited years for a quality instructional DVD (with clear pictures!) this one will satisfy! Barbara uses birds new to training and with excellent quality footage (High Definition no less!) you can really see the body language of the parrot students and learn the subtleties of good positive reinforcement training.
We highly recommend this DVD, not just for the sound and kind philosophies behind the technique but also because the recording is of top quality. You will not be disappointed.
High Definition All Region DVD.
Approx Runtime: 60mins
http://myparrotshop.com/dvd-parrot-behaviour-training/
Product Description
Written by aviculturist, Phil Digney, this 104-page title covers all the necessary requirements needed to successfully take an egg through incubation, hatching, brooding and development into a fully weaned chick.Beautifully illustrated with colour images, charts and diagrams supporting the informative text.An invaluable reference for any serious bird breeder.
Contents:
Incubation – Artificial Incubation, Meet the Egg!, Choosing an Incubator/Hatcher, Equipment, Handling the Egg, Incubation, Hatching Details, Problems and Troubleshooting, Egg Weighing
Handraising Parrots – The Goal, Fundamentals, Brooders and Brooding, Formulas, Feeding Instruments, Feeding the Newly Hatched, Growth Phase, Peak/Weaning Phase, Weaning Black Cockatoos, Pulling Chicks, Troubleshooting
Author: Phil Digney
Pages: 100
Soft Cover
Publisher: ABK Publications
ISBN: 9780958710213
http://myparrotshop.com/abk-incubation-handraising-parrots/
Product Description
Contents:
This handsomely illustrated book presents basic information about Cockatoos for new or soon-to-be owners. Topics covered include purchase caging equipment general care and maintenance health care and much more.
Authors: Werner Lantermann, Susanne Lantermann & Julie Mancini
Pages: 76
Soft Cover
Publisher: Barrons
Illustrations: Colour photos and black/white drawings
ISBN: 9780764143465
Product Description
From how to choose the ideal bird to building a rewarding relationship with your pet, here is the complete guide to having a pet caique.Titles in Barron's extensive selection of Complete Pet Owner's Manuals are filled with useful information and heavily illustrated with high-quality photos and anatomically accurate line drawings. These fact-filled books instruct owners on how to care for dogs, cats, birds, fish, caged pets, reptiles, and virtually every other animal that people are likely to keep as a pet. Books in this series are written by breeders, trainers, veterinarians, and other pet-care specialists. They advise on purchasing, feeding, health care, training, grooming, and all other aspects of responsible pet ownership.
Author: Mary Gorman
Pages: 96
Soft Cover
Illustrations: Colour photos and black/white drawings
Publisher: Barrons
ISBN: 9780764134463
Product Description
Contents:
These medium-size parrots are known for their playful companionship and their talking ability. Here is everything a new pet owner needs to know about caring for Amazon parrots and keeping them as pets, including purchasing, feeding, health care, training, grooming, and all other aspects of responsible pet ownership.
Author: Gayle Soucek
Pages: 96
Soft Cover
Publisher: Barrons
ISBN: 9780764143410
http://myparrotshop.com/acpom-amazon-parrots/
Product Description
Contents:
The information you need to raise a happy and healthy conure can be found in the pages of this handbook. Includes facts, advice, and fascinating insights that tell you what you need to know about acquiring a conure, housing, grooming, feeding, health care, and much more.
Conures, which belong to the parrot family, come in several species, and are available in many sizes and colours. This book advises on selecting, feeding, caging, health care, and understanding the conure's body and vocal language. Written by breeders, trainers, and veterinarians
Authors: Anne C. Watkins
Pages: 154
Soft Cover
Illustrations: Colour photos and black/white drawings.
Publisher: Barrons
ISBN: 9780764127830
http://myparrotshop.com/the-conure-handbook/
These are bird books I recommend for pet bird owners who want to become more informed about their particular species of parrot and behavior and health issues that are critical for you to understand to keep happy and healthy birds.
Books on Lovebirds
by
I 'm recommending the book I wrote because I have read quite a few books on lovebirds and I see a lot of misinformation out there. The book was published by Barron's, which does an extensive series of pet books. The photos are great too!
Why am I excited? Well, besides the fact I wrote the book, I also think it fills a very large gap in the literature on lovebirds. The book helps owners forget all those myths about singles vs. pairs, grit, and lovebird behavior. It's a great book for first-time owners, but also has a lot of info on how to keep a lovebird tame (and bite-free), and how to work with a lovebird has started biting. If you are dabbling with the idea of breeding, I've written a very concise chapter on basics for getting started, as well as a very clear and straight-forward chapter on basic color genetics. If other books have made your head spin when you started to read about genetics, this book will help you get the solid foundation so that you can easily approach more advanced genetics.
Learn more about The Lovebird Handbook
Subtitled "Agapornis: More than a Hobby, A Passion!"
A must-have for aficionados of these feisty little African parrots.  An excellent choice for anyone interested in the various color mutations of lovebirds. Loads of photos and detailed information on the genetics of mutations.  It has a nifty guide on how to tell a bird's color when it's still a little baby fluff ball!  For example, a 2-day-old creamino will have red eyes, ochre beak, dull white down, and yellowish salmon skin while a 2-day-old green orangeface will have dark eyes, grayish black beak, orange down, and light orange skin!
Learn more about The Colored Atlas of Lovebirds
Parrot Behavior
by Sally Blanchard
Published by the Pet Bird Information Center
A book from one of the most sought-after avian behaviorists in the United States.  Sally Blanchard has been writing a behavioral column for Bird Talk Magazine for many years. Her advice and expertise in this area have made her one of the most popular speakers on the pet bird club and show circuits. She bases her recommendations on an underlying notion of nuturing guidance. This book is a must-have for anyone who owns a parrot, but most important, for anyone CONSIDERING buying a parrot.  You can prevent behavioral problems if you are prepared from the outset to properly socialize your bird. Many people think a bird is socialized just during the few weeks or months of handfeeding, but this is an ongoing process. A growing young bird needs proper guidance to live happily with your "flock."  If you buy one book this year on bird behavior, make this the one!
Learn more about The Companion Parrot Handbook
By Bonnie Munro Doane, Richard Cole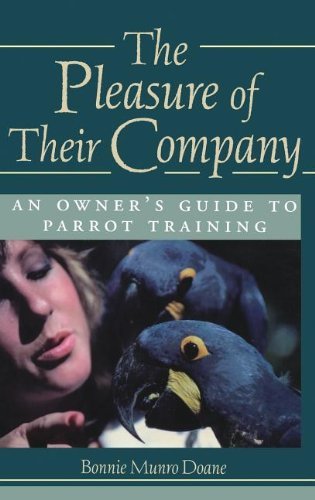 Hardcover, 216 pages. Published in May 1998 by Macmillan
Once and a while a truly excellent book on parrots is published. Here is that once-and-a-while book. "The Pleasure of Their Company" is, in a word, parroterrific!  In the last year or so I've had some terrible behavioral issues develop with my 4-year-old Senegal, Maxwell.  Often when birds reach sexual maturity territoriality and aggressiveness can increase exponentially. If you've made mistakes in training your young bird, you can bet you'll have problems when the bird reaches full adulthood. I wish I'd had this book 4 years ago when I first brought home my darling baby senegal.  The author pulls no punches, reminding us that our birds depend on us for guidance and that we are ultimately responsible for their behavior. This is a book that will help newcomers who are already spoiling their weanlings and old-timers who are now reaping the consequences of having spoiled their birds for years. The advice is so excellent I'm reassessing everything I do with my young bluefront amazon BEFORE she gets into trouble! She's 2 years old now…I think I've caught it in time 😉
This is the same author who brought us "The Parrot in Health and Illness," an indispensable guide for those who own companion birds, and "My Parrot, My Friend," also a great book for those who want to understand their parrots better.  "Pleasure of Their Company" focuses on specific training exercises that will improve current behavior and prevent future behavioral issues.  It includes the latest information on parrot psychology, an area of aviculture that has grown enormously in recent years.  If more people read books like this, there would be fewer abandoned parrots out there on the adoption merry-go-round! If you can only afford ONE BOOK on birds THIS IS THE BOOK TO BUY!
Learn more about The Pleasure of Their Company
by B.H. Coles
This item ships in 2-3 days
Hardcover, 416 pages.  Published June 1998 by Blackwell Science.
A remarkably affordable tome for aviculturists.  It truly changes your perspective on your parrots when you study a book like this!  While it is designed for veterinarians, much of it will be accessible to experienced bird folks. I refer to my copy all the time. It has good charts on every possible disease that can befall your feathered friends.  It's much better than those texts that are intended for laymen and goes into much greater detail on signs and symptoms, diagnostic techniques, and current treatments.  The best bird owner is an educated bird owner–you may find that after reading this text you can help your veterinarian diagnose problems in your birds!
Learn more about Avian Medicine

Gift Books – Coffee Table Parrot Books
Hardcover, 580 pages. Published by Yale University Press
The most recent ultimate guide for parrot lovers. Covers all the species, with an emphasis on field identification of parrots. Cockatoos, macaws, parakeets, lovebirds, budgies, and more.  This is one of those definitive texts every bird lover should have in their home! A truly beautiful book.
Learn more about A Guide to Parrots of the World
Bird Health
The Complete Bird Owner's Handbook
by Gary A. Gallerstein, Heather Acker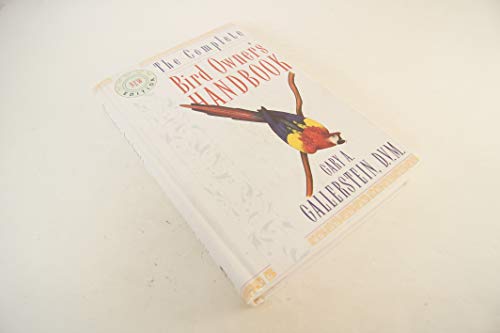 https://www.amazon.com/exec/obidos/ISBN=0876059035/thebirdsthebeadsA/
Hardcover – 320 pages New edition
Howell Book House
An excellent book for those who own companion birds. It's vet stuff for laymen, and will provide you with invaluable information about your bird's health and well-being. Any house with birds needs a good guide to their health to prevent serious disease and illness that could easily be treated if recognized on time.
Learn more about The Complete Bird Owner's Handbook
By Bonnie Munro Doane
Hardcover, 338 pages.  Published by Howell Book Hoose.
An excellent resource for anyone who keeps companion birds.  It should be read cover-to-cover so that you are acutely aware of the signs of illness in parrots.  I can't tell you how many times I've heard people say, "I didn't even realize the bird was sick until I found him on the bottom of the cage!"  Parrots are very good at masking signs of illness. This is a survival mechanism, because in the wild a sick bid would be easily preyed upon.  You need to know how to recognize the subtle signs of illness, from the color of droppings to changes in appetite.  Keep this book with your first aid kit!
Learn more about The Parrot in Health and Illness
Product Description
Contents:
Covers all aspects of pet bird ownership, including selection, nutrition, behaviour, home physicals, emergency medical care, preventative medicine, and much more. Presented in seventeen chapters, this book provides guidance on getting started, achieving optimum health, and understanding what your bird needs from you for a happy, healthy life. Includes an index of health and illness signs, general index, bibliography of additional resources, and superb photos and illustrations to support the detailed text. You will consider this book to be the most essential reference in your avian library, a constant source of reliable advice, assistance, and assurance for your bird's well-being.
Authors: Dr. Gary A. Gallerstein
Pages: 441
Hard Cover
Illustrations: Color and black/white photos and other illustrations
Publisher: Avian Publications
ISBN: 9781895270259